Short bouts of athletic movement and training
Focused wellness practices
Longer bouts of reading and discussion
Increased self-confidence
Improved Reading Comprehension
Increased overall fitness and mental health
Welcome to Tutorfit456! We are an innovative reading tutor based in Dexter, Michigan providing a unique method of reading support for super active 4th, 5th, and 6th grade students that boosts their confidence and helps them reach their full potential. We are committed to helping our students become academically fit and achieve success in their education.
Jonathan Royce (our owner and founder) experienced  growing up as a struggling reader.  This motivated him to create Tutorfit456 Academic Interval Training™, a research-based method of support that combines short bouts of athletic movement and training with focused wellness practices and longer bouts of reading and discussion. This approach optimizes student mindsets by improving alertness, attention, and motivation, and it prepares and encourages nerve cells to bind to one another, which is the cellular basis for learning new information. It also spurs the development of new nerve cells from stem cells in the hippocampus, an area in the brain related to memory and learning. ​
Helping your child transform from being afraid of reading to being a more focused, fearless, and fit lifelong reader. We believe that every student has the potential to achieve great things, and we are committed to helping them reach their full potential. Thank you for considering Tutorfit456.com for your academic needs. We look forward to working with you and helping you achieve your goals!
With over 35 years combined experience, Jonathan and Andre have the experience, empathy and compassion to make a difference in your children's future. Propelling their confidence and motivation to new heights. 
Chief Executive Officer and Founder
Jonathan is a super active adult who struggled to read as a super active child and was blessed with great tutors and support staff growing up.  He developed into a great reader with their support and that of his parents. 
That ability to read got him through college earning a Bachelor's in English from the University of Michigan and a Master's in Education Leadership from Eastern Michigan University.  While earning his Bachelor's degree he was also a member of the University Of Michigan Men's Track & Field where he specialized in the high jump. 
With over 20 years experience working with youth as an educator, he will be the first to tell you that his reading skills are the foundation for his success as a teacher, and is currently a huge asset in his role as principal. In addition to being a principal, he has coached track and field for over 15 years.  He chose to start Tutorfit456™ because it allows him to combine these strengths, super activity, athletics, and education with supporting other struggling super active students.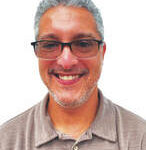 Director of Student Improvement and Head Academic Trainer
Andre Harris is our Director of Student Improvement and Head Academic Trainer. With over 15 years of experience in education and a CDA in Daycare Management, Andre has a proven track record of success when it comes to connecting with students and improving their reading skills.
As an assistant PE Coach and Music Teacher at Paladin Academy in Florida, Andre demonstrated his passion for education and his ability to build meaningful relationships with his students. He has two associate degrees, one in Liberal Arts and one in Education, which have provided him with a well-rounded set of skills that allow him to effectively connect with and motivate students.
Andre is dedicated to providing a unique method of reading support for super active 4th, 5th, and 6th-grade students, ensuring they feel confident and prepared for academic success.